Creating teams meetings is quite straight forward but have you ever wanted to present to a group of users and include your system audio but could not figure out how to do this?
You need to be using the Microsoft Teams Application
When inside your team space, please press the posts button.

Once in the Posts section, Start your meeting and find the Share button

Which looks like the below

Now if you are in the teams application and you want to include system audio, which will allow things like youtube audio to be heard by your attendee's, tick the box below.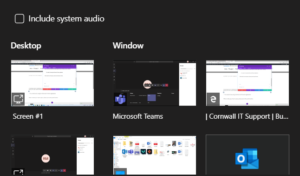 I have had alot of questions regarding this as remote learning / working from home becomes more of a priority.
Hope this helps!
We provide Microsoft teams training, get in touch with us at [email protected] to find out more.