Creating Meetings within Microsoft teams can be confusing if you are new to the platform. Here are 3 ways to create meetings on Microsoft Teams.
Create a meeting in Outlook
Create meetings within your team
Create meetings within the calendar tab
Lets show you how to do these.
Creating Meetings via outlook
First open outlook and open your calendar
Within the top ribbon bar, please find the start teams meeting

Fill out meeting information and invite your attendee's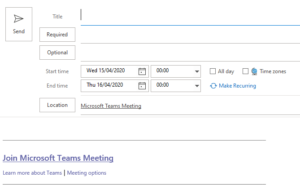 Now when you have been invited to a meeting, you can also use this method to join your teams meeting. Open up your meeting and press the join teams meeting tab.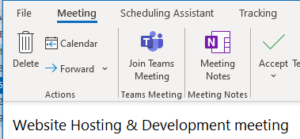 Creating meetings within your team
Firstly, please note your user experience will always be much better if you use the Microsoft Teams app.
Please open up Microsoft Teams and on the left hand panel please select Teams

Once in teams please press the Posts button in the top tabs bar.

Once you are in tabs, under the conversation bar you will see icons, please choose the meet now button.
For those who might not know, it is the below icon.

Press this and start your meeting. Please note, meetings in this will allow everyone in that team to connect and are not private. Also those people in these meetings will join the meeting as presenters and will have full control over the meeting.
Create meetings within the calendar tab
Please open the Microsoft Teams application and find the calendar on the side bar.

Once in the calendar please press the New meeting button in the top right hand corner.

Please fill out information and add your attendee's.

Please note, one to one meetings should be created using the outlook or the calendar method. These meetings are private with only the attendees you have selected.
I hope you found this helpful, please get in contact if you need further training.
My email is [email protected]