Do you work in a enviroment which has multiple channels? Ever write a post in one channel which you feel would benefit users in another? Lets see you how to write a comment in multiple channels!
Lets start by opening up the Microsoft Teams application (Remember, this offers the most features and performance is always better using the application)

Now once in Microsoft team, please open up one of your teams and go to the post section.

Now we need you to press the format button
This will expand your formatting area and provie more options.
Please see the button which says "post in multiple channels"
Now press select channels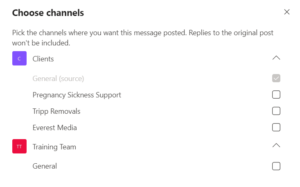 Select the channels you wish your post gets copied to.
You will then next to the To: the channels you have selected

Now when you press the send button, the message will go to all of the selected channels, therefore saving you alot of time!
I hope this helps!
If you need more help please reach out to me at [email protected]