Saving emails into sharepoint / Teams is quite a simple but affective task which many people do not know about! Lets get into this short guide and save some people some valuable time!
Firstly we want you to open up your email client which could be outlook 2016 or outlook web.
Please compose a new email or you can forward an existing email which you want to appear in the sharepoint site.
Now in the To: field you need to type in the team's email address, in my example I have a Microsoft Team called Training Team so the email would be [email protected] , If you are a client of Cornwall IT please contact me if you need to know what your email addresses would be.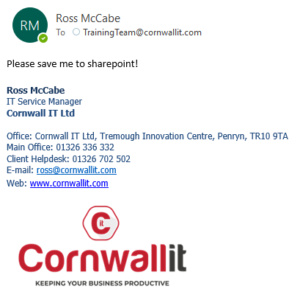 Now we need to go and find this email, please go to Microsoft Teams and open the team in sharepoint.
Open up your teams application as i always recommend using the Teams application.

Find the correct team
Please press open in sharepoint
On the left hand panel you will see a tab called conversations, Please press this.
Please note when you press this, it will open up outlook on the web and show you the inbox of this Microsoft Team.
Hands up, who knew you could do this? A very good way to keep track of emails which are associated with a Microsoft Team.
As always, please let me know what you think of this!
Please reach out to me at [email protected] if you need further assitance.